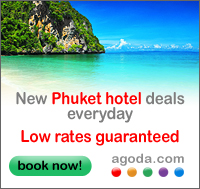 Phuket Tour
Although many tourists enjoy spending every day of their vacation on one of the Phuket Beaches, there are plenty of alternative activities which they can enjoy. There are many different Phuket tour companies on the island and there are some excellent Phuket tours which tourists can book. There are many great activities and sights to see and we therefore really recommend all travelers to go on at least one Phuket tour during their vacation on the island.

Please note that there can be a big price difference for the same Phuket tour from one Phuket travel agent and another Phuket tour agent. This is why it is extremely wise if you check the prices with different Phuket tour companies before you purchase your Phuket tour.

The Phuket guide has listed for you some of the most popular Phuket tours. We are certain that you will be able to find at least one Phuket tour program which you would enjoy.


Phuket Eco Adventure Tours

One of the most popular Phuket tour programs is certainly that of Phuket Eco Adventure Tours. There are a lot of interesting activities inside of this Phuket tour including elephant trekking, learning more about the monkey population of Phuket and learning about how buffalos are an important part of Thai farming. You will also visit an original Phuket rubber tree plantation.


Whitewater Rafting and Elephant Trekking

The whitewater rafting and elephant trekking Phuket tour package is popular with travelers of all ages. The actual white water rafting is not done on the island of Phuket as there are no real rivers so you will be driven by comfortable mini bus to Phang Nga province. After you have finished with the white water rafting, you will end this excellent Phuket tour by taking a ride on an elephant through the jungle.


Phang Nga Bay Cruise

This is one of our favorite Phuket tours. You will go on a restored Chinese junk and sea some of the most beautiful sights in Phang Nga bay. Food and drinks are also includes in this Phuket tour package. Some of the highlights of this Phuket tour are a visit to a real traditional sea gypsy village as well as a visit to James Bond Island. This island has gotten its name as it was once filmed for a James Bond movie.


Phi Phi Islands Day Tour

One of the most sold Phuket tour programs is the full day tour to the Phi Phi islands. You will get there by speed boat and these wonderful islands are world famous due to the excellent diving as well as being the place where a large part of the movie "The Beach" was filmed. This Phuket tour program includes an excellent buffet lunch and you can enjoy snorkeling, visiting monkey, cave exploring and spending some time at Maya beach.


Phuket Extreme ATV Tour

Especially the younger crowd seems to really enjoy this exciting Phuket tour. If you join this Phuket tour then you will be handed an all terrain vehicle and with a guided group you will drive across Phuket beaches and even through the jungle. This Phuket tour is certainly a great deal of fun....
---
Do you have Questions on Phuket Tour?
Ask them at Tripsofa.com for free.
---