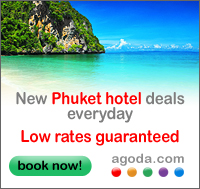 Phuket Restaurants
All the same Phuket restaurants can be found on most of the Phuket travel sites. Are these Phuket restaurants really the best or are they simply older or more expensive? The fact is that most Phuket sites list the most famous Phuket restaurants and nearly every Phuket restaurant which is located in these Phuket guides are more expensive then what one would pay at a restaurant in Phuket which was less well known but served similar quality food and dishes.

That is why I have decided to include in the Phuket guide only Phuket restaurants in this section which I personally visit and for which I can vouch the quality of their food and their reasonable prices. So if you are looking to have a great meal and a good time in a Phuket restaurant then be sure to visit one of the restaurants in Phuket which have been listed later on in this Phuket restaurants chapter.


There are hundreds of Phuket restaurants and all the various Phuket beaches have their own Phuket restaurant assortment. It really does not matter what type of food you feel like having on any particular day during your stay on Phuket as there will be some restaurant in Phuket that will serve it.

The most popular type of foreign Phuket restaurant seems to be Italian restaurants and Indian restaurants. You will find many of these type of Phuket restaurants in the popular Phuket beach areas such as Patong beach, Karon and Kata beach.


Phuket Restaurant

Don's Cafe Phuket Restaurant - One of my favorite Phuket restaurants for a number years already has been Don's Cafe which is located on the road between Nai Harn beach and Rawai beach. This wonderful and unique restaurant in Phuket first opened its doors in 1997 and was started by Don who is a very senior former NASA engineer. You can find all types of food at Don's Cafe and there are great Mexican dishes as well as really excellent steaks. Don's Cafe is now surrounded by Don's mall which also houses a wine bar, butcher shop and excellent grocery store. Prices at this Phuket restaurant are affordable and the quality of good at this restaurant in Phuket is really great.


Twin Brothers Phuket Restaurant - The Twin Brothers Restaurant located directly on Surin beach is definitely among the best Phuket restaurants serving Italian style pizza's. Not only is the food really great at this Surin beach restaurant but the view and scenery which you will encounter at this restaurant in Phuket is simply amazing.

The Family Restaurant Phuket - I am a big fan of Middle Eastern dishes which is why I love to visit the Family restaurant in Phuket. The owner is from Israel and serves some really great dishes including Hummus, Kebab and Falavel at really cheap prices. The owner of this Phuket restaurant is also a big blues fan so you will normally be able to watch some really great blues music videos on the screens of this excellent restaurant in Phuket. This is one of the popular Phuket restaurants in the Chalong area of the island...
---
Do you have Questions on Phuket Restaurants?
Ask them at Tripsofa.com for free.
---