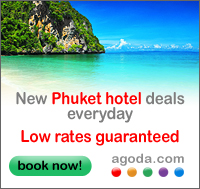 Krabi
Krabi is another leading Thai travel destination which is located not too far from Phuket Island. It has become increasingly popular over the last decade among travelers who are seeking a quiet and peaceful beach vacation. Another major attraction point of Krabi is that prices are generally cheaper than in Phuket and many other major Thailand travel destinations.

Krabi is blessed with some of the most beautiful beaches found anywhere in Asia and there are also hundreds of small islands of the coast of Krabi. Many of these islands also have accommodation for tourists and travelers.

Many travelers that spend time on Phuket also opt for spending some time on Krabi. Phuket might have more nightlife and attractions however Krabi certainly has more beautiful flora and fauna as well as much nicer tropical beaches.

Krabi Location

Krabi is located in Southern Thailand and is located along the Andaman coast line. The coast line of Krabi is over one hundred and fifty kilometers in length. There are different ways how you can get to Krabi and the Phuket guide has listed them for you.

By Air: Krabi does in fact have its very own airport. There are daily flights during the tourist high season from Bangkok to Krabi airport. Alternatively you can also fly into Phuket International Airport or even the airport of Surat Thani and then make your way down to Krabi. There are also some smaller planes which take travelers from Phuket International Airport to the airport of Krabi. Please check with Destination Air for prices and the schedule.

By Bus: There are direct busses from Bangkok to Krabi. If you would like to take a bus then you should head over to the Pen Klao Southern Bus station in Bangkok. The trip by bus might be inexpensive but it does take around 12 hours. Most of the busses from Bangkok to Krabi are night busses. If you would like to go by bus from Phuket to Krabi then you will have many options. There are several daily busses to Krabi as well as various mini bus services.

By Boat: You can of course also reach Krabi by boat. If you are coming from Phuket then there is unfortunately not a direct ferry which would take you from Phuket to Krabi. You can however take the Ferry to the Phi Phi Islands and then switch over to a direct ferry to Krabi. The total trip would take around four hours.

Krabi Beaches

One of the main attractions of Krabi is is of course its beautiful white sandy beaches. The Phuket guide has listed for our readers some of the most popular and most beautiful Krabi beaches. If you are traveling to Thailand so as to enjoy a nice beach holiday then you should definitely consider spending your vacation at one of the amazing Krabi beaches.

Ao Nang Beach

The most famous of all the Krabi beaches is most definitely Ao Nang beach. This is also the Krabi resort area which offers the largest variety of activities and facilities to the tourists and travelers. This Krabi beach is located only a few minutes' drive from Krabi town. If you are staying at Ao Nang beach then it is also rather easy to visit other beautiful nearby Krabi beaches which include Railay beach and Noppharat Thara beach. There are many nice Krabi resorts and hotels in the area of Ao Nang beach. The Phuket guide would like to recommend the following outstanding Krabi hotels and resorts for those of you that would like to spend a part of their holiday at this wonderful beach in Krabi: Centara Grand Beach Resort and Spa, Ao Nang Buri Resort and the Ao Nang Villa Resort.

Railay Beach

This amazing Krabi beach is frequently listed in the top 5 of most beautiful Thai beaches. What makes visiting this wonderful Krabi beach such a unique experience is the fact that Railay beach can only be reached by boat. This Krabi beach offers it visitor's pure blissfulness as there are no cars, bikes, jet skis or annoying beach vendors. You will only see some traditional Thai long tail boats that take people to and from this wonderful Krabi beach. Railay beach is definitely not very developed and there is only a limited selection of Krabi hotels and resorts in the Railay beach area. If Railay beach sounds appealing to you then you should look into booking a suite or room at one of the following Railay beach hotels and resorts: Krabi Sunrise Tropical Resort, Railay Beach Resort and Spa and the Railay Princess Resort and Spa. There are a number of interesting activities which you can enjoy at Railay beach and which include rock climbing, sea kayaking, cave exploring, snorkeling, beach football, diving and swimming.

Klong Muang Beach

Klong Muang Beach is one of our favorite Krabi beaches. Many local residents prefer this beach as it has not seen the high level of development which can be seen at many other Krabi beaches. There is not much at this Krabi beach in terms of activities. Most of the people that visit the Krabi Klong Muang beach do so as to enjoy the quiet and wonderful white sandy beach and to do some snorkeling and swimming. There are a few small shops and dining outlets at Klong Muang beach. If you would like to stay in the Klong Muang beach area then there are really only two options which you have and which are: The five star Sheraton Krabi Beach Resort and the Krabi Nakamanda Resort and Spa.

Nopparat Beach

Another very popular and trendy Krabi beach is the Napporat beach which is located very close to Ao Nang beach. This spectacular Krabi beach is about three kilometers in length and is very popular with the local Thai population. There are a few places at Napporat beach for water sports and there are also a few restaurants and bars along this splendid Krabi beach. As this Krabi beach is located so close to Ao Nang beach, you can stay at any Ao Nang beach hotel or resort and still visit Nopparat beach on a daily basis...
---
Do you have Questions on Krabi?
Ask them at Tripsofa.com for free.
---