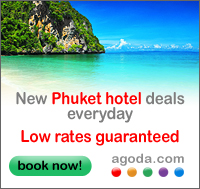 Botanica Villas Phuket
A friend of mine purchased a villa at Botanica Villas Phuket and I was invited to his new home party. I was so impressed by his new Phuket villa that I thought it would be appropriate to add a review of Botanica Villas Phuket to our online Phuket guide. Construction started a few years back and all the properties at the Botanica Villas Phuket was quickly sold out as it's a rather small villa housing estate with only six luxurious properties and no space for any additional villas in the future. However as with all the villa estates in Phuket, villas will come up for sale at Botanica Villas Phuket from time to time which means that the information in this review will remain valuable and rather useful for future potential buyers.

The starting price for one of the Botanica villas in Phuket was initially listed at 8.2 million Thai Baht and the most expensive of the villas at Botanica Villas Phuket was just over 11.5 Million Thai Baht. If one considers the villa they are getting in return then I do think that the prices were more than reasonable. Obviously the resale prices for the Botanica Villas Phuket are higher and it would not surprise me that any villa that would come on the market now would cost at least 50% more. Even at the higher price I do feel that it is a good buy and investment as the real estate market will continue to gain value in the future.

The Botanica Villas Phuket is located in the hillside over Layan Beach. This area of Phuket is quickly turning into a rather posh area to live and some of the most exclusive and desirable Phuket property developments can be found in this part of Phuket. Just up the road of the Botanica Villas Phuket is a rather remarkable high end condominium complex so it is definitely a great place to live. The beach of Layan is only moments away by car or motorbike. There are also several outstanding and well known golf courses in this part of Phuket so a Botanica Villa in Phuket would also be ideal for golf players.

Although there are only 6 villas at Botanica Villas in Phuket, not all the villas are the same. All of the Botanica villas in Phuket do have their very own swimming pool but some of the villas have 2 bedrooms and some of the Phuket Botanica Villas have 3 bedrooms. The living space of the various different villas at the Botanica Villas Phuket housing community range from 240 square meters up to 360 square meters. Some of the items which makes these Botanica villas especially so nice include the wonderful rooftop terrace which offers stunning views over a lake, lush tropical gardens and of course its private swimming pools. The Botanica Villas in Phuket have been designed in a rather stunning contemporary oriental style.

The villas at Botanica Villas Phuket can either be purchased on freehold basis or 3 x 30 year leasehold basis. Please note that if you get a villa on leasehold basis then you can sell it to another person later on freehold basis.
---
Do you have Questions on Botanica Villas Phuket?
Ask them at Tripsofa.com for free.
---